Cane Corso Outfit for Active Dogs
For our loyal customers and those who joined us lately we created this FREE Newsletter, which you can subscribe for right here on this page! This is our archive of all sent Newsletters for you not to miss something topical or important. Join us, learn everything you're interested in, get to know more about your dog's life and features and enjoy reading this entertaining, yet informative source!!
When the weather is calling for action it is hard to resist the temptation, isn't it?
What can be better than involving into some recreative activity with your dog? Maybe you've already chosen some from that almost endless list of dog sports? - Probably it's agility, tracking, carting, hiking or Schutzhund? Or perhaps you've decided to stick to just active dog walking?:)
- Anyway, be perfectly sure: your Cane Corso will thrive with some extra training. - Representatives of this athletic breed need a lot of exercise to keep their body in good shape. And both for training in different terrains and for walking in urban area, there are two things you want from your dog's equipment. First - it must be durable, and second - it must be easy to clean (comfort for your dog is automatically included beforehand).
The products below are a perfect match for any active Cane Corso.
Still don't forget about your dog's protection.
Learn how to care about his health as well!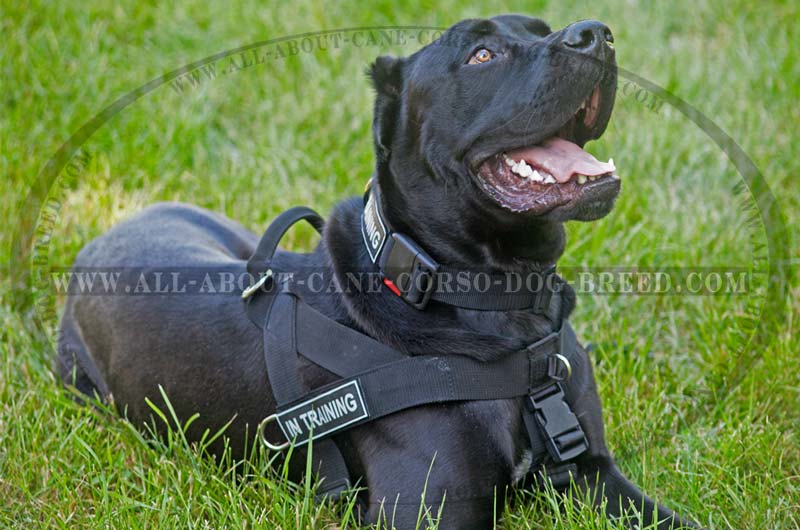 How to Care about Cane Corso's Health in a Proper Way
Keeping a dog is the most disturbing question. Some dog breeds didn't become so popular because of difficult and troublesome care, but Cane Corso dogs are not in this list. Cane Corso is an example of a dog when the dog's cost and keeping cost differ greatly.
---